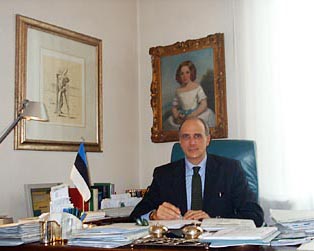 LUIGI CECCHINI

Honorary Consul of The Republic of ESTONIA

DECLARED ON 3/7/2000
EXEQUATUR 27/7/2000

Personal Data:

Graduated at University of Florence, Faculty of Law, with maximum grade cum laude (1977).
Member of the Florentine Bar Association since 1980 and Lawyer's Board since 1986.
Owner of the Cecchini law firm
STUDIO LEGALE CECCHINI
since 1980.
Admitted to plead in the Supreme Court since 1994. Honorary judge.
Enrolled as an arbitrator in the Chamber of Agriculture and Commerce in Florence.
Member of the Arbitration Association "Giustizia Arbitrale".
Member of the Institute of Property Arbitrators of Florence.
Vice-president of ONLUS Chianti and Enterprise.


Languages:
English


E-mail:
lcecchini@cecchinilaw.it